Numeric Eight
Mental Health Webinar
How to boost health, happiness and performance
Whether you're looking to overcome a specific stress or simply want to boost your health, happiness and performance, there are strategies you can start employing today to master your mind and elevate your mood.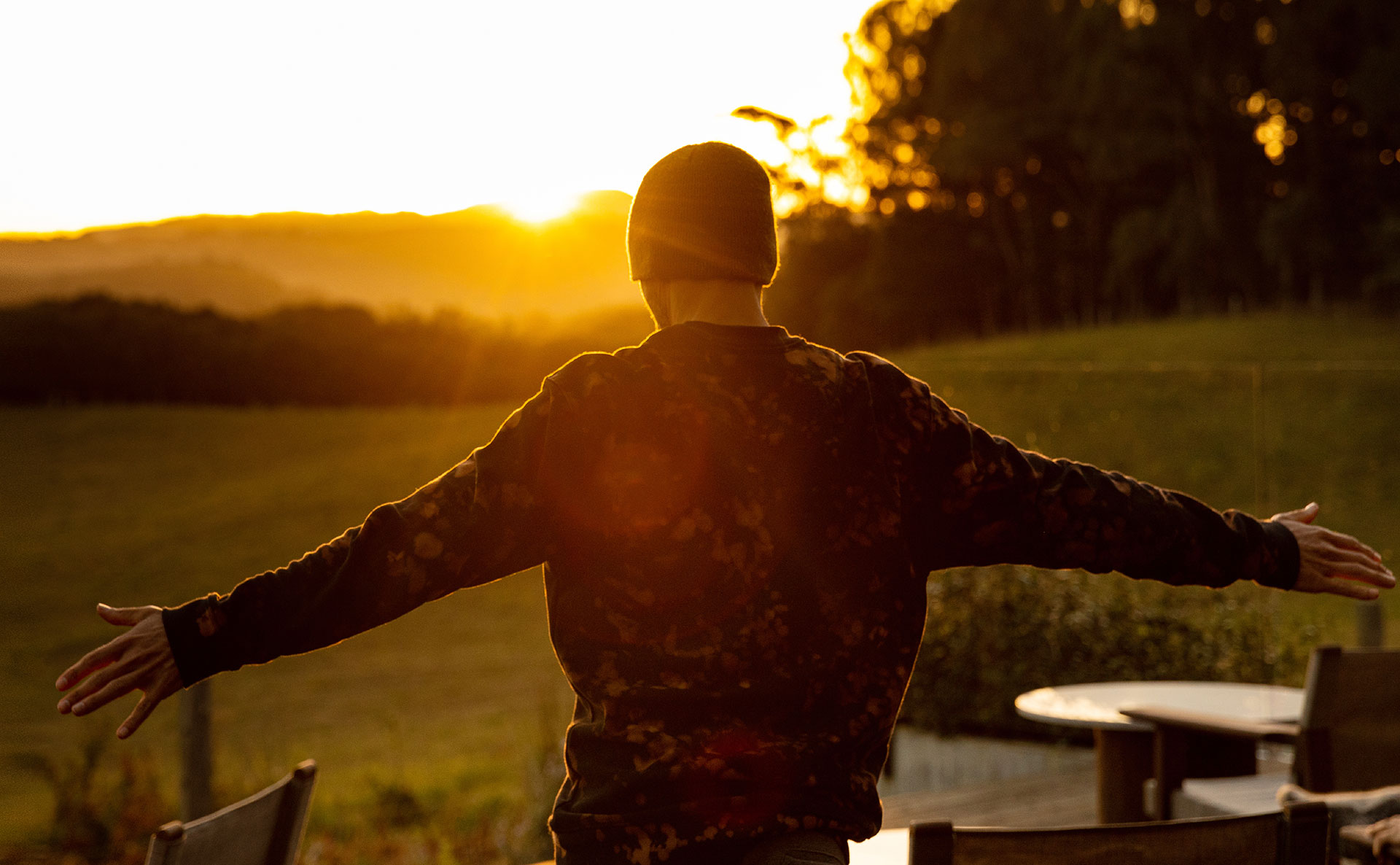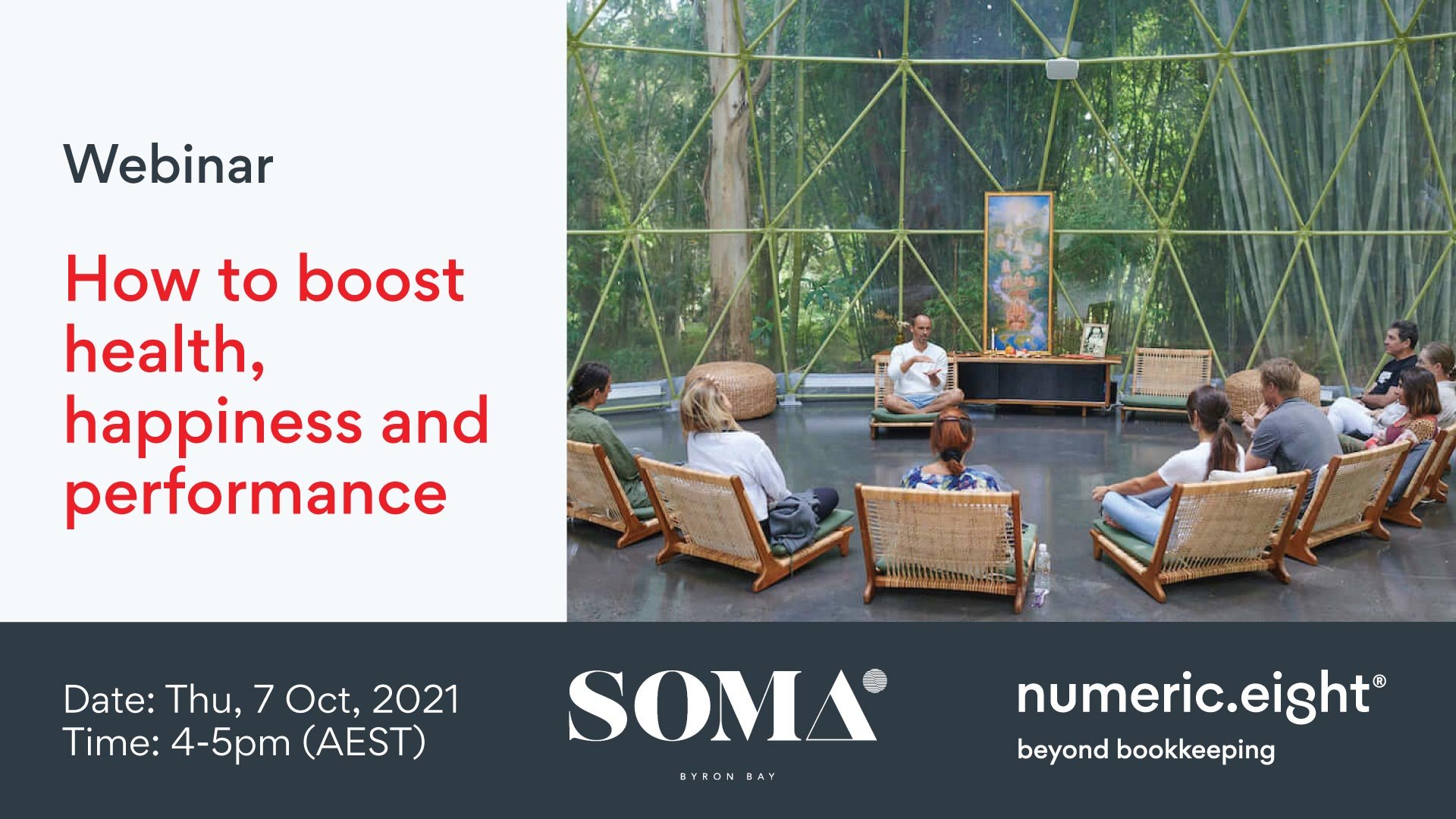 Date: Thursday, 7th of October
Time: 4-5pm (AEST)
This webinar has concluded. Please fill out the form to watch the recording.

Are you looking to create the foundations for a richer life?
Our state of mind affects how we think, feel and behave. Improving your mental wellbeing will help you deal with stress and anxiety, overcome challenges, build relationships and get the most out of life.
Whether you're looking to overcome a specific stress or simply want to boost your health, happiness and performance, there are strategies you can start employing today to master your mind and elevate your mood.
To coincide with mental health month, Numeric Eight has partnered with Soma to host a live, free webinar where we will reveal practices and strategies you can adopt to:
build and maintain an optimal state of mind.
actively promote mental health in the workplace to improve productivity and staff retention
Our expert panel will also be on hand for a live Q&A, so please come armed with any questions you may have.
It's time to prioritise your mental health and wellbeing.
Register now. We look forward to seeing you there.
Resources
Listen to the Soma collective podcast for free! Hosted by Gary Gorrow and Peter Ostick, the Soma Collective Podcast explores the intersection between creativity, consciousness and the art of living.
Interviews include societies visionaries and game changers in Australia and beyond providing their insight into topics including ancient philosophy, spirituality, science and innovation in the modern world.
Podcasts will vary with conversations between Peter and Gary to hear his insights ranging from spirituality to death, and special guest interviews with people from the Soma world that inspire and evoke curiosity.
Soma Collective Podcast guests so far include musician Xavier Rudd, Satish Kumar, film director and activist Damon Gameau, critically acclaimed photographers Stephen Dupont and Tamara Dean, Ju Jitsu world champion Thalison Soares and cultured meat entrepreneur Tim Noaksmith.


Bonus!
Connecting a community of conscious individuals is Soma's vision. By joining the Soma Collective Premium Membership, you'll get access to the RISE course as well as our Masterclasses with world-class facilitators filmed on location at Soma, live webinars with Gary, group breath work, yoga sessions, guided meditations and more.

Everyone who registers to attend the live webinar will gain access to a 12 month Premium Membership of the Soma Collective, which includes the RISE course, for just $181 USD (typically $220.56 USD).

RISE is an online series empowering you with the knowledge and practices to gain mastery of your mind.

RISE is the culmination of Soma co-founder, Gary Gorrow's work over the past 17 years and has been developed as an effective tool to help his clients enhance mental health, gain mastery of mind and overcome stress and anxiety.
Trudi Yip
Managing Director, Numeric Eight
Trudi started Numeric Eight in 2006. Under Trudi's leadership Numeric Eight has flourished into a successful bookkeeping and accounts management business. Trudi believes the strongest relationships are built through trust, honesty and respect between clients and her team. With over 20 years' experience running small businesses Trudi understands the pain points experienced by business owners.
Gary is the leader of RISE, Soma's first-ever online course for mindfulness and meditation. This unique online series empowers you with knowledge and practices to enhance your mental health, gain mastery of mind and overcome stress and anxiety.
Gary has over 17 years of experience as a Vedic Meditation practitioner (master teacher), qualified Ayurvedic health coach, mindfulness expert, high-performance coach and motivational speaker. Gary has worked with thousands of people from all walks of life and his services are sought after by some of the world's leading companies for his innovative meditation and mindfulness programs. Gary is passionate about empowering people with techniques that enable them to re-engineer their lives inside and out. His approach synthesizes the best of modern science and ancient consciousness-based practices. He is a practical and down to earth character who dedicates himself solely to working with people to maximise performance and success in their personal and professional lives.
Peter has 20 years of experience building companies in the media and technology sector. He now invests and advises CEO's in growing early-stage businesses.
10 years ago Peter's life on the outside was incredibly successful. He was the founder of a fast-growing media and technology company operating in 9 countries when he was under the age of thirty. He had all the trappings of wealth and success from the outside whilst the reality was, Peter was physically and mentally burnt out and found himself in hospital for the second time in three months due to stress and exhaustion. It was at this tipping point where Peter was advised by his doctors that he needed to make a lifestyle change or else he would not make it to see forty.
Peter went through a journey to learn to reconnect to his consciousness and health. During his time of researching how he could better manage his health, Peter was introduced to meditation through Gary and his teachings. Finally, Peter found someone who could teach him meditation and mindfulness tools while being scientific, contemporary and relatable in his teaching approach.
Do you have any questions? Get in touch with us and one of our friendly team members will be happy to help.
Follow us on social media
Join our social media communities and stay up to date with the latest Numeric Eight, Finance and Bookkeeping news.
Fill out the form to watch the recording